Okhueleigbe Thompsons-Aikpehae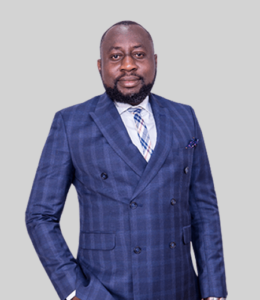 OK as he is fondly called serves as the Senior Partner of the firm. He started his commercial practice with the law firm of Awokoya, Awokoya & Co, a fully-fledged litigation practice, where he gained experience as a barrister in several commercial dispute representations in the High Court and Court of Appeal, Nigeria.
He also served as Head of Chambers in the law firm of M. J. Onigbanjo (SAN) & Co, where he represented the firm in several commercial litigations in almost all the jurisdictions in the Federal Republic of Nigeria and in all the hierarchy of Courts. His experience as a Solicitor was garnered during his time with Associated Attorneys; a non-court practice firm of Solicitors. In Associated Attorneys, he rendered advisory to clients desiring to do business in Nigeria on regulatory government issues as well as being the team lead for advisory on labour and tax matters.
With a degree in International Capital Markets and Loans and International Business Law, Okhueleigbe has been able to grow the Firm's Capital Market and Structured Finance Practice. He focuses his practice on advisory and disputes on Capital Markets, Corporate Governance, General Corporate and Securities Law matters. As Head of the firm's Commercial Law Practice team, he has successfully advised several Pan Africa Private Equity Investors with respect to several legacy issues around their investee companies. In that same regard, he has deployed his Commercial Practice experience in debt restructuring for both Private and Corporate Clients, with successful challenges to excessive lending charges and he is currently involved in an ongoing N77 Billion Debt Restructuring dispute.
An active member of the International Bar Association, Law Firm, Banking Law and Securities Law Committees, in 2015, he served as the Regional Coordinator for Africa in IBA Law Firm Committee, Mentoring Programme.
He remains actively involved in the strategy and operations of clients' business, providing practical solutions and serving as a catalyst for launching, growing and maintaining successful businesses.